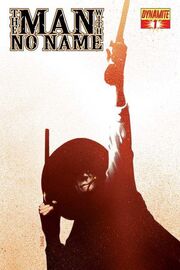 The man with no name: the good,the bad and the uglier is a series of comic books Published by American Dynamite Entertainment based on the character of the dollars trilogy. The series started in the Spring of 2008 and was written by Christos Gage until Luke Lieberman and Matt Wolpert took over the writing for issues #s 7-11. Chuck Dixon was scheduled to take over the writing from issue #12 but Dynamite ended the series and instead opted to use Dixon's storyline for a new series titled The Good, The Bad and the ugly, despite using the same name the comic isn't an adaptation of the movie.
The series follows the man with no name (also reffered to as Blondie) in different adventures set after the events of the good the bad and the ugly film during the American civil war.
Ad blocker interference detected!
Wikia is a free-to-use site that makes money from advertising. We have a modified experience for viewers using ad blockers

Wikia is not accessible if you've made further modifications. Remove the custom ad blocker rule(s) and the page will load as expected.